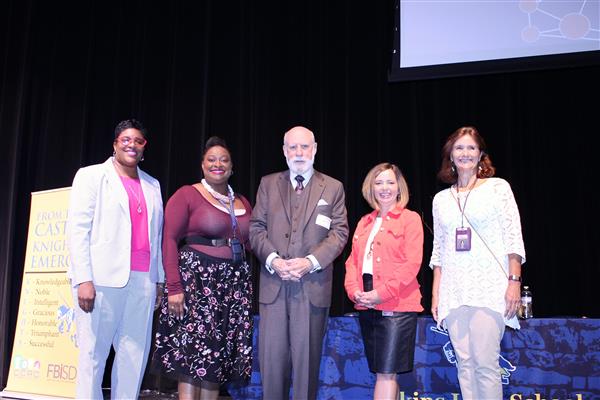 FORT BEND ISD (September 21, 2018) – More than 300 Elkins High School students had the opportunity to meet Dr. Vinton Cerf, Vice President and Chief Internet Evangelist for Google, also known as one of the "fathers of the Internet." Cerf was the featured speaker during a STEM (science, technology, engineering and math) presentation hosted by Elkins' College and Career Readiness Center in partnership with Rice University's Baker Institute and Office of STEM Engagement.
Welcoming Cerf to the event were CCR Advisor Narietha Carter-McClain, FBISD Director of Career and Technical Education Meredith Watassek and EHS engineering student Kirthivel Ramesh. They were eager to join the audience in learning more about Cerf's professional journey.
Cerf kept the audience engaged with stories of his involvement in creating the internet, how his wife's hearing was restored with technology and his current role at Google. He also spoke of some of the upcoming trends in technology, such as Google's launch of Loon to expand internet capabilities around the globe and radio-based internet service that is increasingly available.
When offering students advice in preparing for the future, Cerf encouraged them to "take what you're learning in high school and do significant things with it." He also said that "working after college can be a good thing because it gives you an opportunity to learn what you want and don't want to do."
Written- Fort Bend ISD