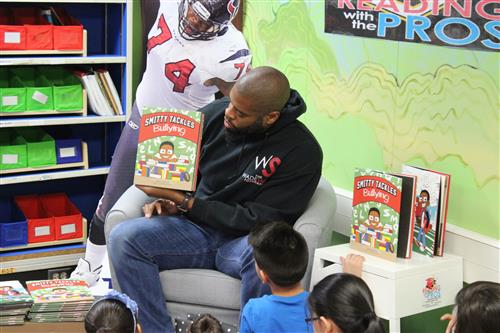 FORT BEND ISD (December 7, 2018) – Former Houston Texans player Wade Smith recently stopped by Mission Bend Elementary to dedicate his reading program, Reading with the Pros, to the school.
The program, which is part of The Wade Smith Foundation, promotes and supports childhood literacy education through in-person celebrity book readings and classroom visits. Earlier this fall, Smith stopped by the school with KHOU anchor Mia Gradney, and former NFL players Kevin Walter and Jonathan Holland to launch the program and read to students.
During his most recent visit, Smith sat with a smaller group of students and read them two of his books, "Smitty Hits the Play Books" and "Smitty Tackles Bullying."
"Smitty Hits the Play Books" is Smith's story of his own experience, which shows young students and athletes how important it is to stay focused and determined at school so they can achieve their dreams in life and on the field.
"Smitty Tackles Bullying" takes place one year after the first book, and follows Smitty as he learns one of his friend is being bullied for not being a strong reader. Smitty uses kindness and understanding to conquer the bully, and in the end, makes a new friend and finds a way to help his friend with reading.
After the reading session, Smith talked to students about what they learned from the stories, and encouraged them to always do their best in school so they can continue down a path of success.
Learn more about The Wade Smith Foundation at https://wadesmithfoundation.org.